Subaru All-Around Safety
At Subaru, safety comes first. That's why Subaru has been fine-tuning, testing, and retesting its advanced safety features for over 50 years. With the latest in collision protection/avoidance systems and core technologies like Subaru Global Platform and Symmetrical AWD, Subaru continues its 'people first' policy by improving All-Around Safety and envisions an accident-free future.
Outstanding visibility, optimal driving position, and intuitive controls help keep you safe from the moment you enter your vehicle.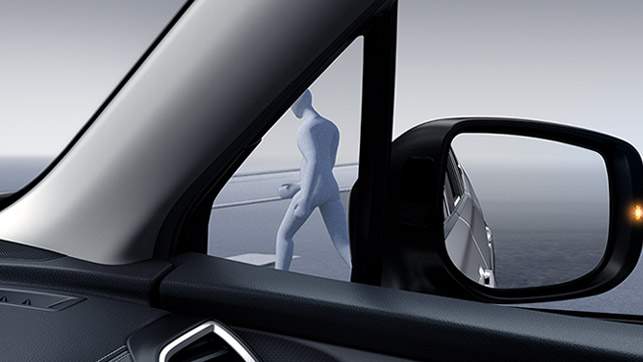 Visibility in all directions
Easily check your surroundings. Optimal driving position, window heights, and carefully arranged pillars provide excellent visibility in all directions to reduce blind spots.
Core technologies like Symmetrical AWD and SGP allow precise control of the basic
elements of driving—driving, turning, and braking.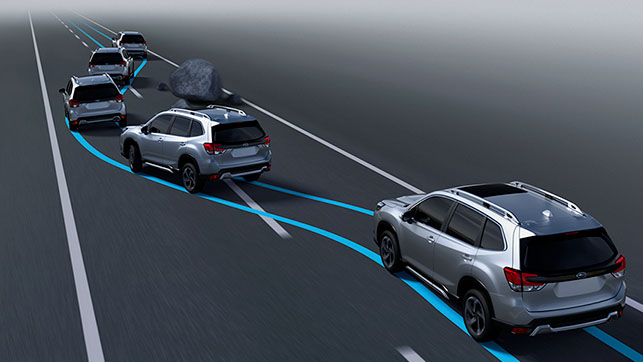 Hazard Avoidance
The low centre of gravity design, enhanced suspension system, and rigidity improvements provide a vehicle that responds immediately to driver input, helping avoid hazards on the road.
Vehicle Dynamics Control System
Adjusts AWD torque distribution, engine output, and brakes at each wheel to help keep the vehicle on course when making turns.
Active Torque Vectoring
Applies brakes and distributes less torque to the inside wheels and more to the outside wheels for more precise handling to help you make sharp turns when necessary.
Auto Vehicle Hold
Reduces driver fatigue when stopped at a signal, in traffic jams, or on a slope. AVH holds the vehicle in place even with your foot off the pedal when at a complete stop.
Advanced safety technologies such as EyeSight*¹ helps avoid collisions before they happen.
Subaru Rear Vehicle Detection (SRVD)*²
Sensors in the rear corners alert you of vehicles in your rear blind spots for safer lane changes and warns you of potential collision danger while driving in reverse.
High Beam Assist (HBA)*²
Increases visibility and safety when driving at night by toggling the high beams on and off automatically, depending on driving conditions.
Steering Responsive Headlights (SRH)
See better around corners in the dark for safer nighttime driving. These headlights turn with steering input to aim your lights in the direction your vehicle is turning.
Subaru EyeSight Driver Assist Technology
Completely re-engineered with a host of new and advanced functions, EyeSight*¹ provides drivers with even more peace of mind on the road. Updates to both image recognition and control software, plus hardware improvements like windshield integration, enable even more confident and safer driving in many real-world driving situations.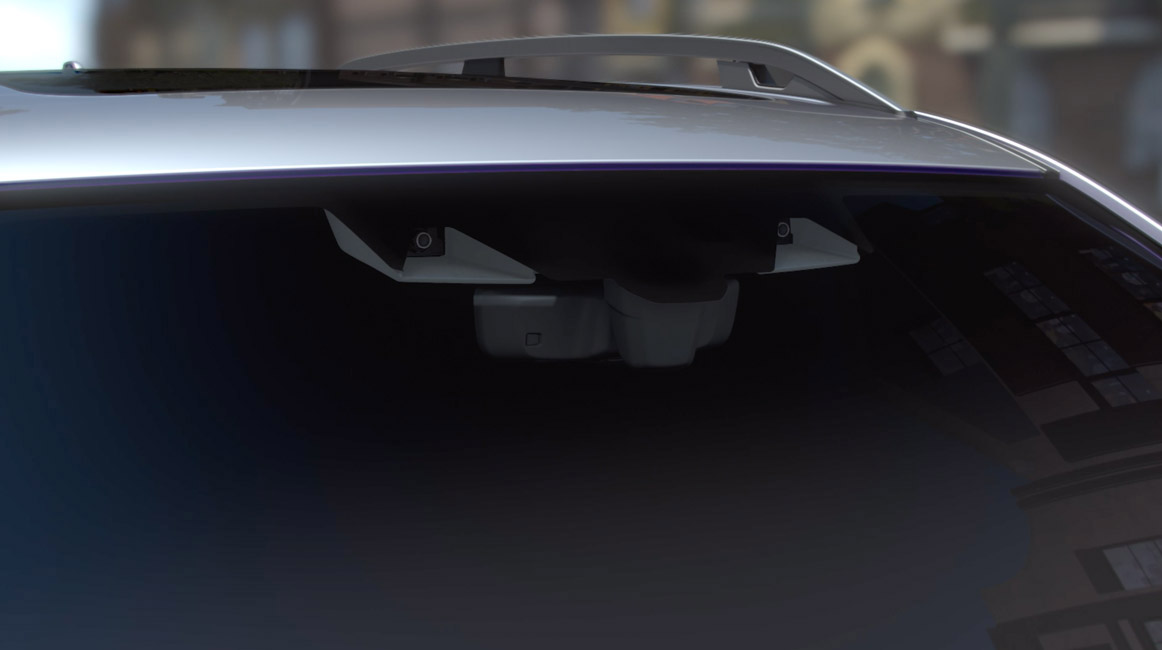 Pre-Collision Braking System*³
A new stereo camera with a wider angle of view and improved image recognition and control software helps avoid collisions at intersections.
Autonomous Emergency Steering
When Pre-Collision Braking Assist isn't enough, Autonomous Emergency Steering uses the stereo camera and rear radar to detect lane markings to judge if there is enough space to safely avoid a collision with an the object ahead. If judged safe, it helps avoid a collision with automatic steering support.
Adaptive Cruise Control
A comfort and convenience on long drives, Adaptive Cruise Control maintains a set distance from the vehicle ahead by continuously monitoring the distance and speed difference. Useful on freeways, highways, and similar roads, it can detect a lead vehicle and its brake lamps to keep pace in stop-and-go highway traffic.
Lane Centring Control and Preceding Vehicle Adaptive Steering Control
Reduces driver fatigue and stress by recognising lane markings and the vehicle ahead to assist with steering wheel operation and help stay in the centre of the road.
Lead Vehicle Start Alert
When you're at a stop and traffic starts moving again, Lead Vehicle Start Alert prompts you to take action with a buzzer and a flashing indicator.
Pre-Collision Throttle Management
When there is an object in front and you put the gear in Drive instead of Reverse, the system can alert you with a buzzer and flashing indicator and cuts engine power to minimise possible frontal impact force and damage.
Lane Departure Prevention
Makes long drives stress-free by helping you stay in your lane. By recognising lane markings, and assisting with steering wheel operation, it can help keep your vehicle in the lane.
View the conditions
*¹ EyeSight is a driving support system which may not operate optimally under all driving conditions. The driver is always responsible for safe and attentive driving and observance of traffic regulations. System effectiveness depends on many factors such as vehicle maintenance, weather, and road conditions. See Owner's Manual for complete details on system operation and limitations for EyeSight, including functions in this brochure.
*² The driver is always responsible for safe and attentive driving and observance of traffic regulations. Please do not depend solely on the Advanced Safety Package features for safe driving. There are limitations to the features of this system. See Owner's Manual for complete details on system operation and limitations. Please ask your retailer for more details.
*³ Pre-Collision Braking System may not work in all situations. Depending on the speed difference from objects, the object's height, and other conditions, every situation may not meet the necessary conditions for EyeSight to work optimally.

For illustration purposes only. Not actual measurements.
Designed to keep you safe in the event of a collision with features
such as the cabin-protecting engine layout and SRS* airbags.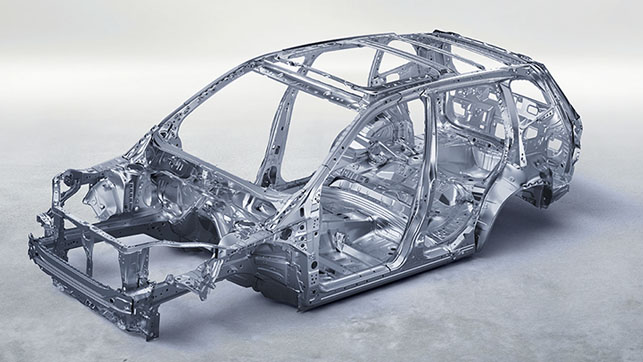 Ring-shaped Reinforcement Frame
Protects the cabin area with structurally redesigned high-tensile steel panels for better collision impact energy absorption from all directions.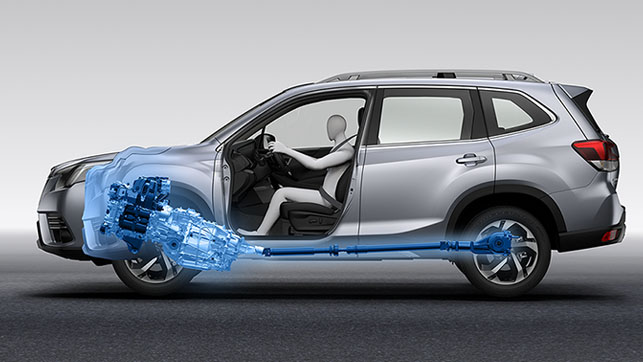 Cabin-protecting Layout
The reinforced pillars and frame all work together within the Forester's SGP design to absorb collision impact from all sides to protect all passengers. In the event of a frontal collision, the engine and gearbox are designed to be pushed below the vehicle instead of crashing into the cabin.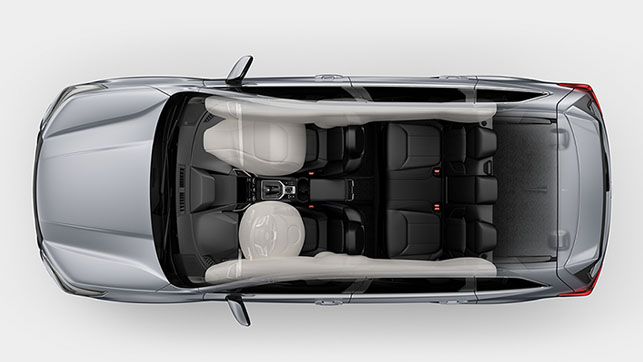 Supplemental Restraint System (SRS)* Airbags
Front SRS* airbags, front side SRS* airbags, curtain SRS* airbags, and a knee SRS* airbag come standard on the Forester to give all passengers a higher level of protection in the event of a collision.
* SRS: Supplemental Restraint System. Effective when used in conjunction with seatbelts.